UPCOMING EVENTS & CONCERTS
THE PICTURES PROJECT
TUE. APRIL 25, 2023
Sid Williams Theatre, Courtenay
CONCERT 7:30 PM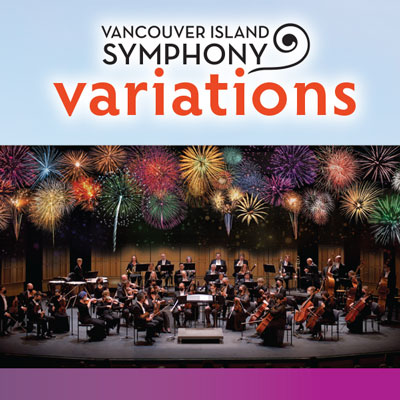 PROMS ISLAND STYLE
SAT. APRIL 29, 2023
Port Theatre, Nanaimo
CONCERTS 5:00 PM OR 7:30 PM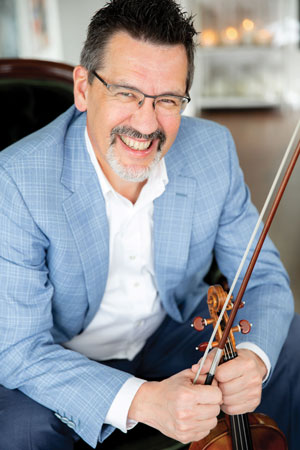 Greetings from the VIS Musicians!
Thank you! Our hearts are full of gratitude as we reflect on your loyalty to the Vancouver Island Symphony over the past two years.
Our 2022 – 2023 season is a year of change. Synonyms for change include shift, adjustment, diversity, innovation, transition and variation. All these words describe the exciting season ahead that your orchestra will embrace in fabulous performances.
In the music world variation is a technique where the music is repeated in an altered form. The changes may involve melody, rhythm, orchestration or any combination of these. Our 2022-2023 season is full of variation! Instead of one conductor, the VIS will work under six conductors. Three
are chosen as candidates for the position of Artistic Director: Nadège Foofat (October), Alexander Prior (January) and Cosette Justo Valdés (February). We also have three guest conductors: Yariv Aloni, Arthur Arnold and myself. I am delighted to conduct our December concerts.
We are so pleased to play the Orchestral Masters: Dvorak, Vivaldi, Mozart, Beethoven, Mendelssohn, Sibelius and another variation – a Pastiche Symphony – that includes four movements from four symphonies by different composers. Diversity and innovation are something that we continue to explore with works by living composers. The Bergmann Duo returns to perform Marcel Bergmann's Concerto for Two Pianos; Rosemary Georgeson and Joan Blackman perform Jeffrey Ryan's Seasons of the Sea; Ariel Barnes returns to perform Dorothy Chang's Invisible Distance; and in February, we are delighted to premiere a new work by Jennifer Butler featuring Mezzo-Soprano Marion Newman.
As we begin a new era of artistic direction, I invite you – on behalf of the musicians of the Vancouver Island Symphony – to join us on this year of musical adventure. See you in October – we can't wait!
Calvin Dyck, VIS Concertmaster
VIS Artistic Manager, 2022-2023 Season