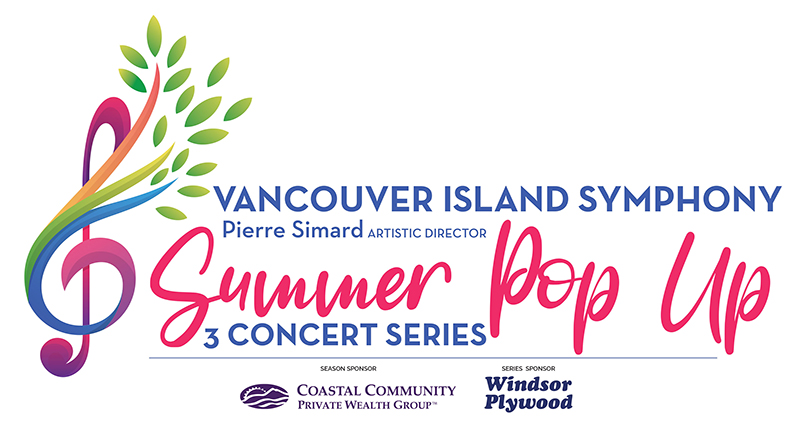 Expect the unexpected with the return of the Vancouver Island Symphony's  popular Summer Pop Up Concert Series featuring 3 VIS Ensembles performing works from all genres of music including Classical, Jazz, Latin, Traditional and Canadiana favourites.  These 3 concerts take place in beautiful garden settings from Yellowpoint to the Comox Valley featuring: # 1: VIS Back Row Brass Quintet, #2: VIS String Quartet & French Horn #3: the Marko Paolo Trio (Flute, Violin/ Accordion, Double Bass).


Symphony Pop Up Series Tickets: $135 (+ service charge)
Tickets to 3 Summer Concerts performed outside in beautiful spaces!
All Tickets Packages sold through the Port Theatre Ticket Centre.
Single Tickets to specific concerts will be sold, only if available closer to concert dates.
These ensembles include:
VIS Back Row Brass Quintet
VIS String Quartet and French Horn
The Marko Paolo Trio (Flute, Violin, Accordion, Double Bass)
The VIS will present these concerts using health regulations as outlined by the Government of British Columbia. There are specific rules and we will be following them for everyone's safety.
CONCERT INFORMATION
Concerts will be held outside on private property (with the exception of Bowen Park location) and can accommodate 45 audience members that will be seated with social distancing in place.
The exact concert location address will be provided once you book your ticket.
Concerts will be one hour (60 minutes) in length with audience members arriving no more than 30 minutes ahead and leaving no later than 30 minutes after the concert.
Audience Members need to bring their own chairs (except at Bowen Park where ticket holders will need to bring a cushion to sit on the seats provided in the amphitheatre
Masks are required on entrance and exit, once seated you may remove your mask, hand sanitizer will be available.
A washroom will be available for Emergencies ONLY.
Parking is on the street, please respect the neighbours in each location.
Audience members will be asked to line up prior to entering the yard. They will then be directed to move to a space where they can place their chairs for seating. Audience members may sit in their COVID Bubbles.
Audience members agree to not attend if they are sick or not feeling well.
Tickets are non-refundable but they are transferable. The Purchaser may sell or give their concert space to someone else. When packages are resold or transferred, the Symphony must be notified and the new package owners must provide their contact information in order for the VIS to remain compliant with health regulations and COVID-19 Tracking.
We are unable to reschedule these concerts. If it rains the show will go on. In the event of rain, the musicians will be under cover, however audience will not. Please bring your umbrellas.
Musicians have been hard hit financially by the pandemic and will continue to be challenged to make a living in the next 12 months. These Summer Pop Up concerts support our VIS musicians. Your support is so important in ensuring that the VIS will be able to continue to operate. Thank you.
SEASON SPONSOR
SERIES SPONSOR
WEDNESDAYS @ 3:00 PM
DOWNTOWN NANAIMO
July 21 | Aug 4 | Aug 18
Exact location address will be sent via email after purchase
WEDNESDAYS @ 7:00 PM
DOWNTOWN NANAIMO
July 21 | Aug 4 | Aug 18
Exact location address will be sent via email after purchase
THURSDAYS @ 10:30 AM
GABRIOLA ISLAND
July 22 | Aug 5 | Aug 19
Exact location address will be sent via email after purchase
THURSDAYS @ 7:00 PM
NORTH NANAIMO
July 22 | Aug 5 | Aug 19
Exact location address will be sent via email after purchase
FRIDAYS @ 11:00 AM
PARKSVILLE
July 23 | Aug 6 | Aug 20
Exact location address will be sent via email after purchase
FRIDAYS @ 3:00 PM
UPPER LANTZVILLE
July 23 | Aug 6 | Aug 20
Exact location address will be sent via email after purchase
SATURDAYS @ 11:00 AM
CEDAR BY THE SEA
July 24 | Aug 7 | Aug 21
Exact location address will be sent via email after purchase
SATURDAYS @ 7:00 PM
YELLOWPOINT
July 24 | Aug 7 | Aug 21
Exact location address will be sent via email after purchase
SUNDAYS @ 3:00 PM
COMOX
July 25 | Aug 8 | Aug 22
Exact location address will be sent via email after purchase